Netscout
네트워크 성능 측정 및 어플리케이션 테스트 / nGeniusPULSE
nGeniusPULSE
빠르고 손쉬운 어플리케이션 서비스 상태 및 성능 체크
자동으로 주기적인 어플리케이션 서비스 성능 측정 미치 히스토리 관리
네트워크 및 어플리케이션 서비스 응답시간에 대한 SLA 수치 기준 임계 설정 및 초과시 Alert 발생
지전-본사, 지점-지점 간 네트워크 Bandwidth 성능 측정
실제적인 트래픽 생성으로 서비스 상태 및 응답 시간 테스트
Visual 지표를 통한 문제 발생 도메인 확인
클라이언트 Agent 및 초소형 H/W를 통한 테스트 구성
어플리케이션 서비스 성능 모니터링
어플리케이션 서비스 응답 시간 항목 별 상세 모니터링
TCP Connection Time, Application Response Time, SSL Handshake Time 항목에 대한 Visual 지표 제공
실제 패킷 발생을 통한 정확한 성능 모니터링
nGeniusPULSE monitors applications from anywhere
Virtual Pulse(Software), NETSCOUT Pulse 2000(Hardware)를 통한 손쉬운 모니터링 구성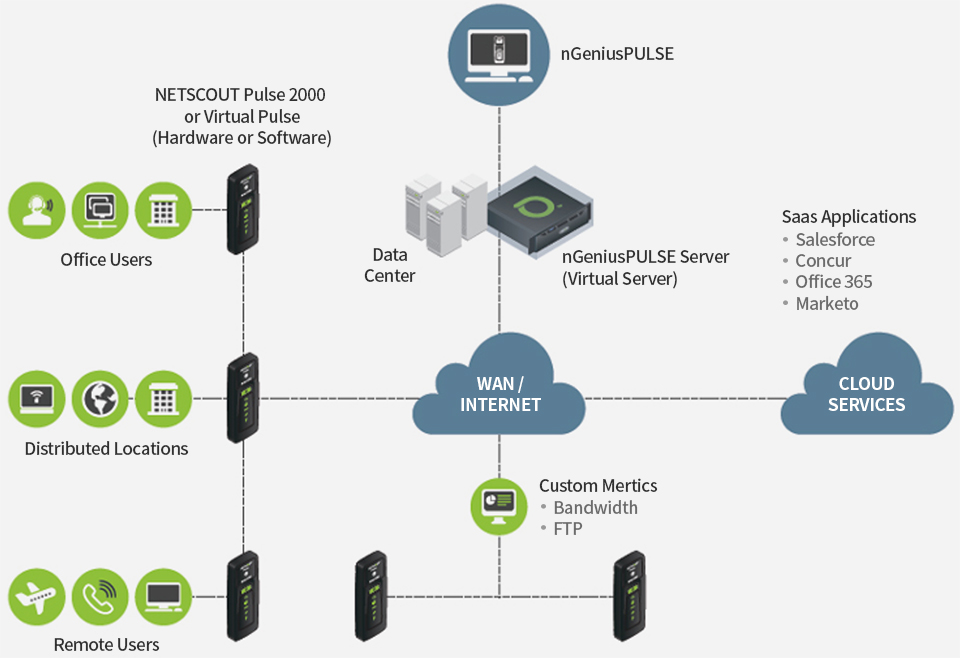 S/W & H/W Pulse EndPoint
nGeniusPULSE offers two deployment options, called "Pulses" to perform synthetic. It is easy to star testing; just deploy Pulses in user devices - virtually anywhere!
NETSCOUT Pulse 2000

Hardware purpose-built micro-appliance
Plug into Power over Ethernet(PoE)
Common uses : individual floors in a building, server rooms remote locations
Just plug it in and walk away!
Virtual PULSE

Software based agent(12MB)
Download to Window or Linux machine
Common uses : need to monitor from a specific PC or Server, business users who travel extensively, need fast deployment at remote sites